Now that we've taken care of the garbage of the year, we can look back at the best movies 2018 had to offer. Now, similar to my "Worst of 2018" list, this list only encompass the movies that I actually saw (duh), and covers what I believe are the best flicks of the year. There might be some other movies that are 'technically' better yet I believe are just not as important to 2018 as the ones on this list.
BUT FIRST!! I have one outstanding honorable mention and that is They Shall Not Grow Old. This is a Peter Jackson directed documentary covering British soldiers in World War One. The subject of the film is not too crazy, as it just covers the lives of British soldiers from when they enlisted to when they returned home, and it uses footage from the Imperial War Museum. BUT that's not what makes this special. The hook of this documentary is that Jackson and his crew restored the color in all of the war footage and it is down right gorgeous…well as gorgeous as the War to End All Wars can be. It's rather disappointing that this was only in theaters for two days as it should have been a land mark film given the 100 year anniversary of the end of the Great War. Luckily, due to popular demand, they are bring it back to theaters later in January so if you get the chance, go watch this.
NOW! On to the top 10!!!
Game Night: What a special treat. 2018 had a bunch of spectacular comedies but this one wins the….well….game. I'll stop now.
BlackkKlansman: One of the few movies I saw in theaters twice this year, and that is saying something considering I saw around 70 movies in theaters last year. This movie is equally funny and disturbing. Adam Driver continues to amaze me and John David Washington as the real Ron Stallworth is the best. Give that man an Oscar!
Overlord: Who thought a movie about Nazis making zombies would be good? Ok I did too. So imagine my surprise when it actually turned out to be spectacular. Imagine the shock. Are you still not convinced? Let me try one other thing. NAZI. ZOMBIES. That's all you need.
A Star is Born: How would I describe this movie? Hmmm. I wonder. Seriously though. This movie, and it's soundtrack, is breathtaking, and the ending will hit you where you do not want to be hit. I know it is not just a remake but a remake of a remake. Still. It's magical. Equally worthy of an Oscar and a place on my top 10!
Black Panther: I mean what else can be said about this one? Sure, I might not think it's as good as other people do, but who cares? This movie is awesome. I CANNOT WAIT to see what Ryan Coogler does with the sequel. I'm expecting big things.
The Front Runner: Different politics for a different time. Many people will point to Black Panther or BlackKklansman for most significant movie of 2018 (whatever that means), but I personally think that award goes to the Front Runner. After all, this shows a glimpse into the transition from the politics of old to the big ole' mess we're in today.
A Quiet Place: You know a film is great when you forget to breathe because you're so scared of making a sound yourself. Props to John Krasinski. Props.
Mission Impossible: Fallout: Now this is a sweaty movie. I dare you to watch this movie and not have sweaty palms…and weak knees…AND MOM'S SPAGHETTI!!
First Man: It's a shame you (probably) did not get to see this in theaters. It's ok. No one else did, based on the Box Office numbers. Still. This movie is magical and highlights the magic of going up to the moon. It would be my movie of the year if it weren't for…
Avengers: Infinity War: I mean. Come on. What else can I say about this one? It is. By far. Hands down. My movie of 2018. It's the one I've seen the most and it is the one that will stay with me for years to come!
<snap>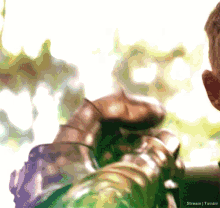 And that's it!! All and all, 2018 was pretty good for us! Sure, there was some filth nasty garbage but there always is. Can't wait to see what 2019 has to offer up.
Starting next Monday, I am going to start weekly review round ups of all the movies I saw in the previous week. This will include both new and old movies. So tune in!!
(Featured picture courtesy of Shutterstock. All movie posters from their respective Wikipedia pages. I do not own any of the images used in this post. All copyright material used under fair use and for review purposes only.)